With a background in industrial design and automotive engineering, Bo's experience spans pre-war to post-industrial 70s machines. As a sideline to his 'real' job, he restores and customises some ridiculously radical bikes.
"If it has a collection of reciprocating parts and a soul, I am instantly hooked on the craftmanship, the how and the why"
BO HARE
Who Hares Wins
MOTORCYCLE
Various
LOCATION
Wheathampstead / England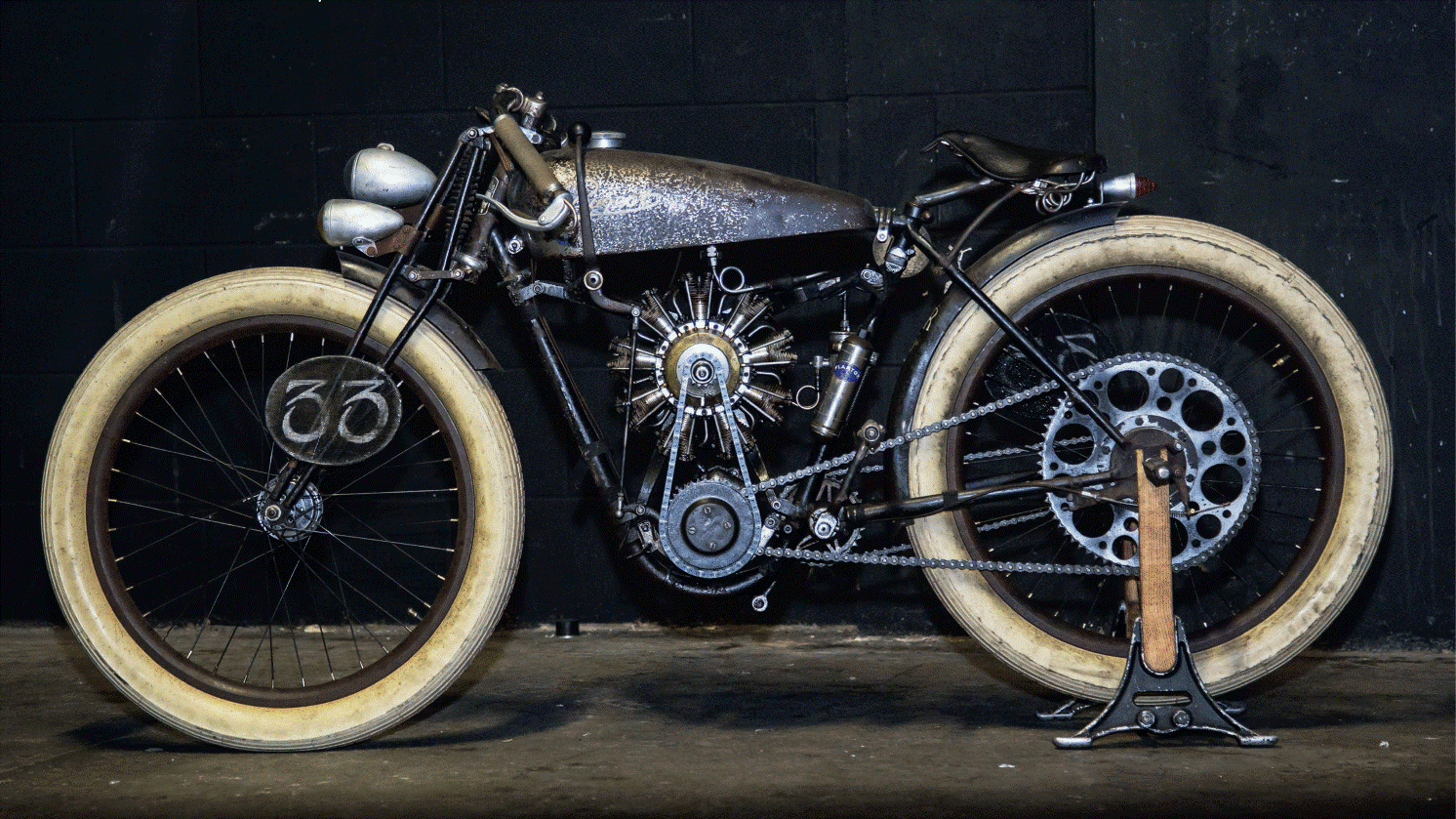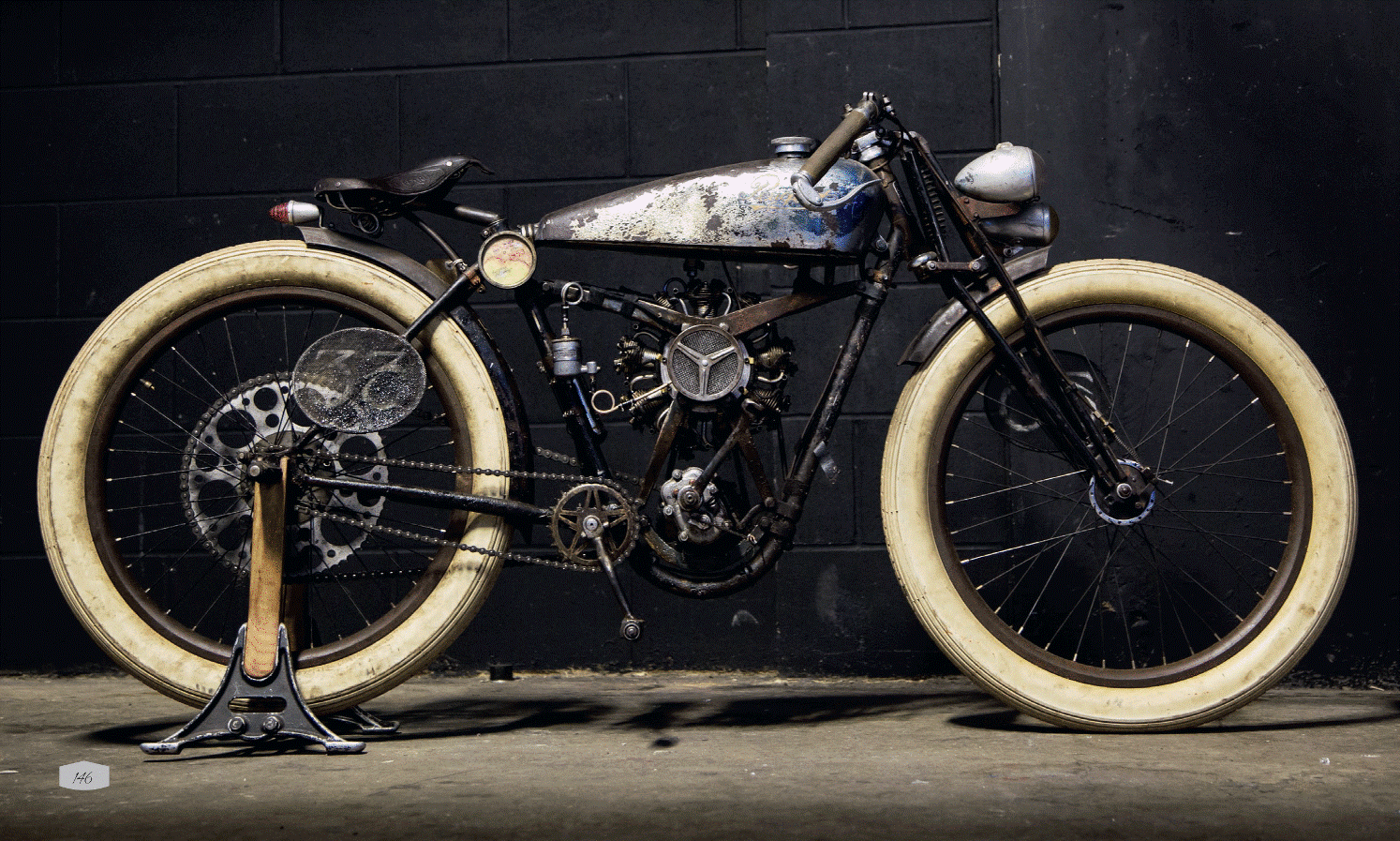 What finer power source for a boardtracker than a nine-cylinder, 100cc miniature aero engine?
Bo Hare's 1930 Peugeot boardtracker is the epitome of the free-thinking customised classics we love. It's based on a 1930s Peugeot rolling chassis but powered by a three-speed, 100cc, nine-cylinder radial engine, that runs on methanol/oil premix and has
total loss lubrication. It revs to 7000rpm, produces 7bhp and weighs just 28kg. We asked Bo to explain himself.
Why did you build this?
Because the original bike was crying out to be boardtrackered, the tank and loop frame were just shouting 'build me'! Vintage bikes are a long-term interest of mine. Moderns leave me cold!
How did you come up with the radial engine concept?
I blame my good friend Julian Shoolheifer for the radial engine plan. We saw the original bike at the same time and came up with the same idea.
Where did you source the engine?
It's a now-obsolete commercial scale version of a WW1 Gnome and Rhone aero engine, modified to suit. The size and capacity are perfect as the bike was originally 100cc when it was made in the early 1930s. It's got glow-plug ignition and runs on methanol, which helps keep everything running cool (ish).
What about the rolling chassis?
The frame, forks, tank, wheel hubs, and even the three-speed gearbox, brakes and pedals are all refurbished early 1930s Peugeot. They're all original to the chassis number – except for the gearbox. It's also got an oiled-cork clutch.
It's got brakes?
It has the original 70mm front and 95mm rear hub-drum brakes. The larger rear prevents braking dive. There's no fork damping.
And the white tyres?
The balloon tyres are American cruiser bicycle type on alloy rims used on those extreme downhill mountain bikes. I've rust-painted them to match the build.
Why in this style?
It had to be a boardtracker and it had to be something different but completely in the style of a barn find. The original preserved finish to the tank, forks and frame led the style for the other vintage parts sourced, modified or scratchbuilt to
complete the bike. Having found the engine, the bike had to be assembled using vintage parts in the same style they would have used had the engine been available in the 1930.
How much time did you invest into this build?
Four hundred-plus hours in research, parts-finding and build, and still counting as exhaust, dynamo and gear lever lockout are still to be engineered.