Finest custom-built motorcycles house name ever? Quite possibly. The bikes are certainly up there with the best.
"My grandad has a Rapide. My dad has a Black Shadow."
CALUM PRYCE-TIDD
deBolex
MOTORCYCLE
Various
LOCATION
London / England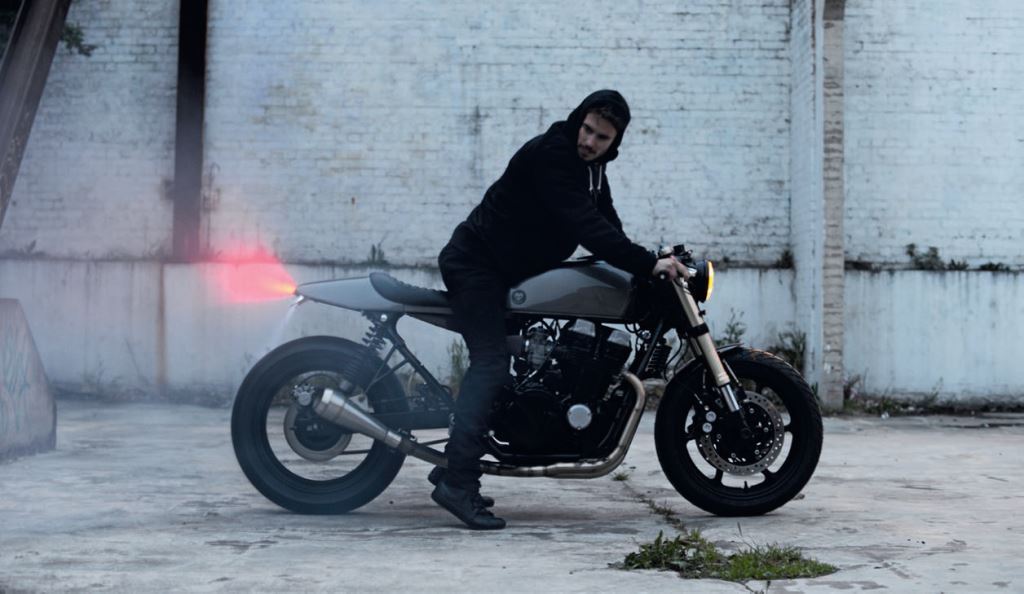 Calum Pryce-Tidd is 25 and owns deBolex Motorcycles. After building his first Honda cafe racer in 2011, he established deBolex in 2012 and has quickly built an envious reputation for classic-looking cafe racers with a modern twist.
Calum's south London workshop is pretty much what you'd expect from a well-groomed, well-spoken young man who turns out pristine, stylish and exquisitely-engineered custom bikes. It's a clean, tidy, well-ordered space, with a sprinkling of the old school machines required to perform every function of an inhouse bike build.
His first jobs were Honda CB750 fours but he's now done a W800 Kawasaki tracker and we find Ducati and Moto Guzzi V-twins in the workshop too... mechanic but I was interested in the custom stuff – but at the time there didn't seem any kind of market for it.
We've seen your builds at The Bike Shed in Paris and Tobacco Dock and the Malle Mile. What are the latest projects? I've got another Honda on the go – but this one will look different with wire wheels. I'm also doing a Ducati 749S for a customer and a Guzzi racer that's my own.
How about the project with the Swedish mobile app developer?
We built two identical CB750s for the app developer behind aGreatday.tv and the Bonesheart app. It was quite a project because we had to replicate everything. The plan was to build a series of CB750s, with a lottery competition to win the bikes and take part in an epic road trip with the organisers. We've templated the Hondas so we can build them on a production line but I'm not that excited about doing repeat work. I like doing one-offs. We've also shaken hands on two Harley Sportster trackers with him but I'm still waiting for the go-ahead. I'm busy until April now. I've got the two bikes here, plus a Buell and potentially another build arriving.
How did you get into building bikes?
Dad owned the garage and the deBolex workshop was originally his paintshop. I was always hanging around his work and at 17 years old I started building an Anglia hot rod. It took two years but taught me how to build an engine, fabrication, paint, everything. I put a Lotus twin-cam engine in the Anglia to replace the 1172cc side-valve engine. Initially, I took the car off the road for three months to do the work but it took me two years to build it. I stripped it bare, put in a new floor, fitted the Lotus engine, which meant cutting bulkheads etc. It kicked me off into a new world. I especially enjoyed the metal fabrication.
Did you always see yourself ending up in the motor trade?
I didn't really want to be a mechanic but I was interested in the custom stuff - but at the time there didn't seem any kind of market for it.
So I decided to train to be a pilot. I had the Anglia on the road for five months – it was wicked to drive – but virtually the minute I had finished, I wanted to sell it and move on to new project. I sold it to pay for my PPL (private pilot's licence) and planned to follow up with a commercial pilot's licence. The week I got my PPL, I lost my bike licence so I went travelling. I always wanted to go skiing so off I went for a season. The plan was to pick up the flying when I got back but the cost of a commercial licence is around £80-100,000 grand. There are schemes, but there were no jobs at the time.
How did you get into building motorcycles?
When I came back from the skiing trip I noticed The Bike Shed – I suppose that was 2011. I was at a loose end, back from travelling, living at home. Dad said he'd help me buy a CB750 for me to build Mk1. I took it to The Bike Shed, a guy saw it and bought it. That was my first bike build but at the time – I had no vision of it becoming a business. I've done nine builds now and these two – the Honda and Ducati – will be Mk10 and 11. I have to focus one thing at a time on a build. So for the Ducati 749S I'll do the belly pan first then work on the exhaust, then move on to do the tank and seat.
Where does the interest in bikes stem from though?
I've always loved bikes – I rode motocross when I was younger – and bikes have always been in the family. My grandad has a Vincent Rapide with over 250,000 miles on it and my Dad bought a Black Shadow 19 years ago. Dad used to ride on the back of grandad's Vincent and I used to go on the back on my dad's. Grandad can still ride but with the insurance companies insisting on doctor's notes for someone of his age, he's called it quits. And I'm going to ride it!
How are you going to push your skill set further?
I'm building a Guzzi for myself. I've got a race bike that has a Tony Foale-inspired frame with a tuned engine, full of RaceCo parts. I'll rebuild the engine and then remake the frame, using modern, lightweight materials, but using the original frame as a template – but it'll be more of a drag racing or land speed style of bike. I'd also love to build a custom version of a Ducati Scrambler. I'd like to be the first one to create a range of bolt-on parts. It's begging for it. But I'd also like to go down the arty route and exploit my fabrication skills. The Ducati is going to have a lot of sculptured alloy bodywork. But I've got my Guzzi too. I like to build bikes with a purpose and want to keep progressing. I could do a Bonnie but most of what is out there is bolt-on. I wouldn't get as much out of that, except perhaps money!
How about the name of the business? How did it come about?
[Laughs] The guy who helps me here part time used to say it a lot when he was making stuff. We'd look at things and go 'that is deBolex,' but we'd say in a posh kind of way, with emphasis on 'oh'. It took me six months to determine if it was okay to use it as a business name or not. The thing that convinced me was reading Richard Branson's autobiography (Losing My Virginity, published by Virgin Books). He said he had reservations about the Virgin name but knew that once people heard it, they never forgot it. That made my mind up. We did some logo tests – I was still trying to get away from it – but I loved the way the logo looked, especially the curves around the 'x' and had to go with it.
Where do you source inspiration for your builds?
I find a lot of inspiration from the Goodwood Revival. I went to the first one with my dad – he's interested in all that old stuff too. I always take lots of photographs on my phone at the Revival. If you look at other custom bikes you end up copying ideas from them and I don't want to do that. I also find inspiration from aircraft and 1950s and 60s cars – their bodywork shapes and engine designs.
What does it for you the most: creative engineering or riding?
Both I suppose, but if you really push me, I'd say the riding – but only with the right bike. I rode a stock Honda and got absolutely nothing from it. But take the Hondas we've built, or the W800 we worked on, and I've got a grin on my face all the time. It's the same in the workshop. If I'm building something different, of course I really enjoy it – making a fuel tank for example – but servicing a bike isn't fun at all.
You said your dad had a garage. Is that where you learned everything?
My dad builds engines so I learned my mechanical knowledge from him – but essentially I just got stuck in. I've learned so much on the metal fabrication side in the past three years. I could alloy weld before but making the tank and seat unit for shows last year really taught me a lot. I'm always learning, that's the beauty of this kind of work, and each bike has to be a progression. The whole idea of the tank was to learn, to prove to myself I can do this and give me something I can transfer to another build. I always push myself. I've not made that many bikes and I'm still learning. That's why I'm keen to do the Guzzi – to prove to myself I can do it. And once it's finished it'll represent the business.
If money was no object and you had total freedom, what motorcycle would you build?
An MV – but it would have to be one of the old racing engines in my own frame. I wouldn't sabotage a perfectly good race bike just to build a custom bike but I love those bikes – the engine design, the sound, the style. It's a bike with purpose. Or maybe I'd build a Vincent. I'd probably have all the interesting engines I could get hold off and build something different around each one. I'd also have a Ducati Scrambler as a daily hack. And I'd want a salt flats racer – and a drag bike. There's so many applications – and I'd need a bike for every mood too. The Guzzi is close to fitting my needs. It will be cool. I can't wait to get stuck into it.