Enfield's new concept store hasn't attracted quite the clientele the company expected. Instead of old blokes wanting a reliable classic, there's a huge mixture of customers. "We get lots of first time bikers in," says manager Linton Khor. "They don't want outrageously powerful bikes. The Enfield is a nice transition from a 125.
"We get lots of first time bikers in,"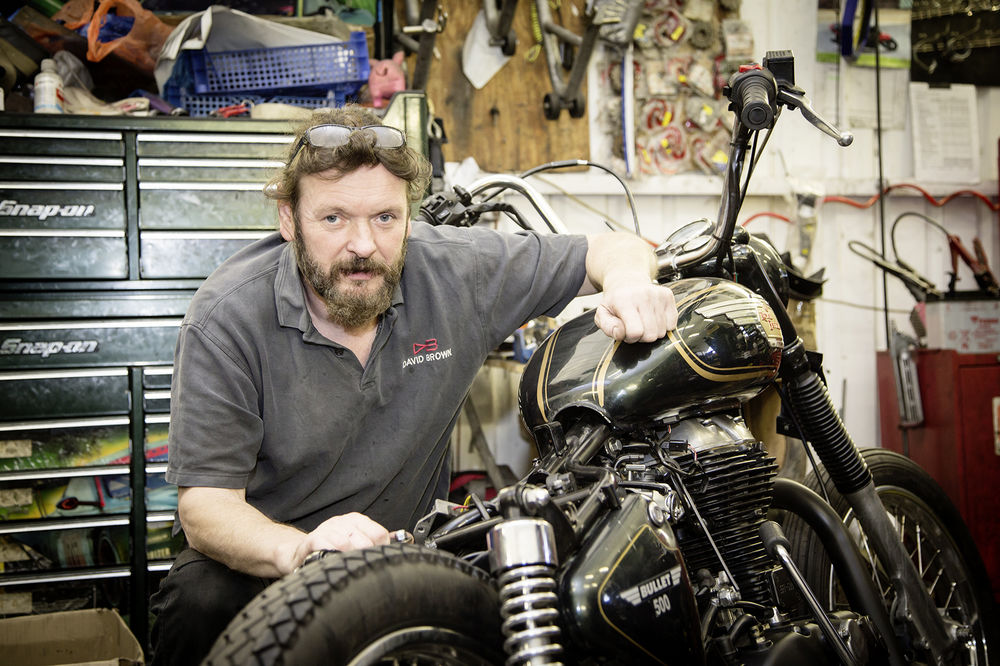 "We've had a Vincent Black Shadow owner buy one. He wanted something simple, reliable, and easy to start. We've also had a guy with the Continental GT250 who's buying a new Continental GT. But it's not the full story.
"We get such an eclectic mix of people in here. Definitely not what Enfield expected. They thought we'd attract the owners of classic bikes to buy the GT."
Instead, younger customers are attracted by the Enfield's combination of affordability and style. "The price of the bike is right, and the cafe racer scene is back. With the Enfield, there's not enough power to scare you but good low down grunt, which makes it a great urban bike.
"But I've also noticed that Royal Enfield is a lifestyle choice – an aspirational thing. We had a guy in to part exchange his V-Rod for a customised Desert Storm Enfield Classic. He wanted a street scrambler so we went through the options. He still wanted heated grips but had to have the electrics hidden.
"We don't get anyone looking for exotic customs. They want subtle changes. The Enfield comes with a silver engine, some wanted it blacked. They want exhaust wrap and they want different silencers."
The age range of buyers is incredible. "We sell Enfields to people of all ages – from guys in their 20s right through to customers in their late 70s. I just sold a street scrambler to a 73-year-old!"
These older customers are probably more aware of the firm's long history. The Enfield Manufacturing company was established in 1891 and made guns, bicycles, lawnmowers and stationary engines before producing a motorcycle in 1901. Bikes were sold to India in 1949, an assembly plant was built there in 1955 and two years later tooling was shipped from the UK so complete bikes could be built.
When motorcycle production in the UK stopped in 1970, the rights to manufacture were sold to India and Enfield motorcycles have continued to be produced there since. An all-new fuel-injected, unit construction single launched in 2008 and it was followed by the launch of the 535cc Continental GT cafe racer in 2012.
Two years later Enfield announced their first 'concept' store in Europe, here next door to TTT Motorcycles on Cambridge Heath Road, Bethnal Green, East London. The only other is in India, near the factory, though there are rumoured plans for 21 stores across Europe and one destined for Venice Beach in California.

Original Retro
Royal Enfield's concept store in London is a magnet for enthusiasts of all ages with a passion for the classic single
TTT Motorcycles is owned by Andy Treloar: "I always aimed at setting up a franchise. I could see that knocking the old place down and starting a new bike shop on the site might be a possibility." Sure enough, redevelopment of the area began and by a quirky turn of fate Enfield's management was looking for a site to launch its first 'concept store' in London.
Andy continues: "They looked at West London but then realised there was so much happening in Shoreditch, Hackney and Bethnal Green. It was fast becoming fashionable and Railtrack were redeveloping the arches that run behind our premises and a new shop was being built right next door. Everything lined up."
Treloar's and Enfield's aspirations were a perfect match and the Enfield 'concept' store was opened in 2014 – the motorcycling equivalent to an Apple Store. It's managed by Linton, a former management consultant psychologist with a passion for bikes. "I'd bought bikes and stuff off Andy in the past," he says. "I loved the store and asked Andy if he needed any help to run it. So now I manage it and Andy can get on with what he's happiest doing – working on bikes."
Being in one of the hippest areas of London is clearly doing the shop no harm. "We have a lot of young guys coming to us who have discovered the classic fashion scene and want to dress in period clothes. They like the fact that older people stop them and strike up conversations about their bike. The thing is that these young guys want to own real classics but they don't aspire to being mechanics. They don't have the technical skills. But they realise a new Enfield gives them the option of owning a classic-styled motorcycle."
The other thing that Linton has realised is that very few of the customers want completely stock machines. "The custom scene in London has really taken off. People buy a base Enfield and then want to tweak it. We have guys coming in asking what mods we can offer – some just want to buy something off the shelf and tweak the bike themselves. Others want someone else to do it for them. But so many want a 'customised' bike."
Consequently Linton offered a custom service. "We have the skill sets within the business. So I did a soft launch of KOR – it's a play on my name. The last five Enfields we've sold have had some degree of customisation. People have seen the Ducati Scrambler at £7000 (for the base model) and want something like that. But we are offering a base model bike for £4- 5000 (Bullet is £3999 OTR, Classic is £4500, Continental GT is £5000).
"The customer comes to us with an idea. Then we go through the books and magazines looking at options, we talk components and then go through the Parts Europe catalogue, which has a huge range of bolt on custom parts. Sadly, Enfield don't have anything like that, which is a little disappointing when you look at Triumph who've just released six new models and a huge catalogue of parts. Customising is a side of the business that's small at the moment but I can see it expanding – especially as the Enfield is so easy to modify.
"Full-on customised bikes are out of reach for a lot of younger guys. For them the Enfield is affordable and can be customised for sensible money. If you spend your working life in the digital realm, you can get back to the analogue world at weekends, ride the backroads, with reliability."

tttmotorcycles.org