Crossing the threshold into Foundry Motorcycle you're greeted by the welcoming smell of roast coffee mingling with fuel and burnt engine oil.
Owner Tom Simpson has incorporated a coffee bar into his shop, with the open plan workshop out back. "I always wanted a social element to the business," says Tom. "I wouldn't enjoy it as
much if it was just a workshop. I've met some of the best people I know through running this business. On Saturdays this place is a destination. I never plan to do too much because there's always people popping in for a chat. I'm known for doing the occasional Sunday breakfast too.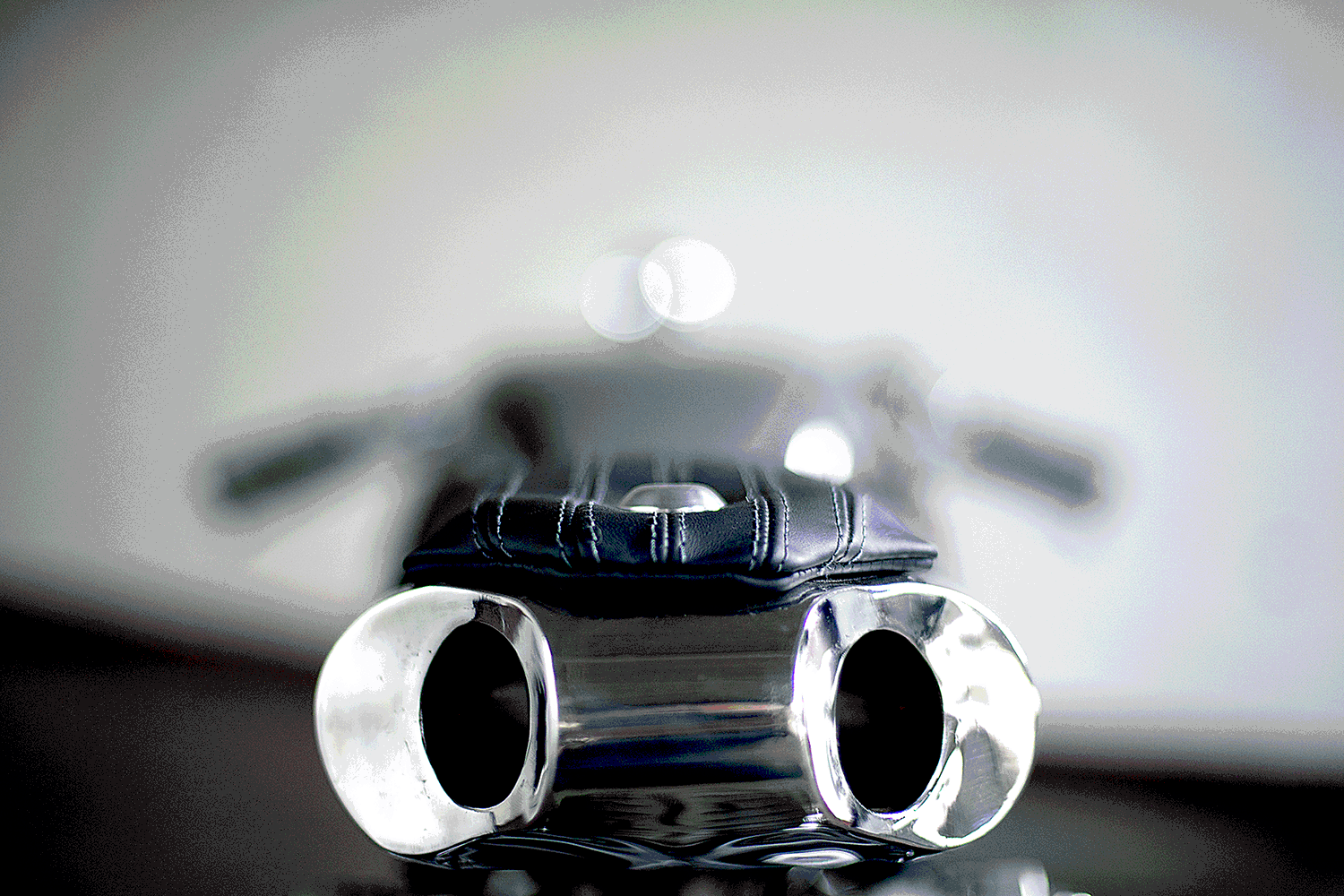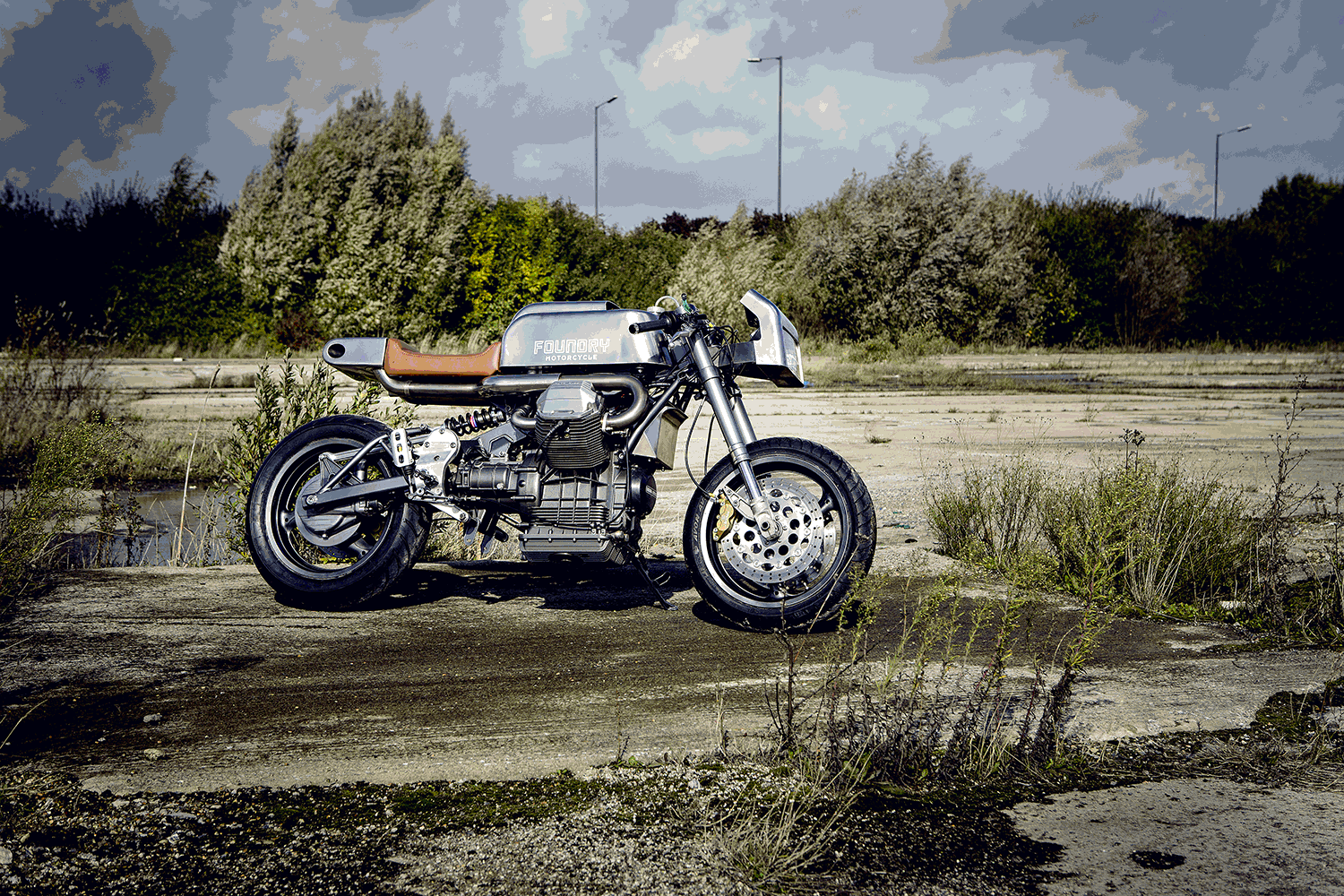 "The nice thing is that I get customers with a random mix of bikes turning up. The other Sunday we had a guy on a CBX750F1 cafe racer in bare metal, a JP-rep Norton, an old school T120 Bonnie and a Desmosedici. I get everyone from big company CEO types to the guy who has one bike in his shed.
"I do think that is the scene now. It's evolved. I like it because it's much more accommodating than other aspects of motorcycling. It's much more inclusive. I get people who would never have had a custom bike before, even though they wanted one."
Tom's shop is painted sparkling white with a screaming red feature wall behind the bar with matching coloured shelving laden with memorabilia and trinkets mostly related to bikes and hot rods. "The 'wall of bits' started as my stuff," he explains.
"I used to make robots out of old bits of classic cars that were being thrown out. The cloth patch, with metal thread embroidered into the emblem, is Special Forces – it reads 'Death From Above'. But then customers started bringing in bits and pieces to add to the collection – stuff they picked up on their travels. There's a lucky wresting cap from Germany, some stuff from Russia…"
Tom was a blacksmith with an interest in motorcycles that stretched back to when he grasstracked on mopeds around a field.
"The seed of my bike obsession took hold when my dad brought home a knackered Suzuki GT250 Ram Air," he says. He'd been given it as part payment for some work but couldn't get it going so after a lot of pestering it was given to me. My uncle and I got it to start, but a stripdown found a bent con-rod.
"That was it for that bike but I was hooked. Smoking around on a mate's GS500 was the precursor to my first big bike, a Hornet 600. Then, when I was into my blacksmith work fulltime fulltime, I was also riding, welding hardtails, making occasional bits and gradually it progressed into full time work."
Foundry Motorcycle was formed after Tom met Simon Lunn. "We got chatting about bikes and two years later we started this business together. We discovered it's not an easy industry to make money in and we reached a crossroads in 2014. Simon went off to do something else and I continued here. I got lucky, timing wise, when the scene became reinvigorated. I'm so busy that I'm booked up into next year at least."
Tom eyes a whiteboard above the workbench, detailing the stockpiled work that's waiting his attention. The list is extensive – mostly new builds but minor mods and servicing are all part of the business. He's been in this industrial unit for just over three years now. "Since Simon left I've gradually been putting my own stamp on the place. Some Sundays we get a flat screen TV in and have a barbecue with family and friends. Our kids can ride mini bikes around the yard. It's a communal site."
Tom is one of those engaging guys who likes the idea of community, which is why he's a big fan of the Bike Shed. "I love their events," he says. "Tobacco Dock this year was really special. Seeing a lot of people I know, chatting all weekend with all sorts of people. I think the Bike Shed is striking a really good balance at the moment. The first two shows were very cult. You could tell the pro builders from the shed builders. Now it's got much bigger. Yes, they've brought in the corporates but they've made sure it's still as low key as they can get away with. And the level of the builds has come on so much."
Tom has seen the scene explode into a worldwide phenomenon, but at the same time, expresses concern over the ebb and flow of new custom bike businesses.
"There's a lot more 'speed shops' now," he says. "It's interesting how many have been spawned and how many have disappeared. I don't think some of the guys realise what's involved in trying to make a business like this work."
What makes Foundry Motorcycle machinery stand out is Tom's philosophy to incorporate new ideas with every build. "By not formalising what I do it means that it keeps everything fresh. I love coming to work and I try to build different things."
His first full build was a 1972 Ironhead Sportster but the bike that really kick-started the business was the cream 1956 Triumph T110 bobber on the opening page. "A mate called Jimmy wanted to buy a Ford Thunderbird and went to this guy's garage who had passed away and saw the Triumph hung up in a barn, ready to be restored. There were piles of parts. We built this together over beers and roll-ups. It was two years before I showed it and when we did, we got second place at the Bike Shed. And that's when the business really got started."
The T110 Tiger was made in December 1955 (1956 model) and has T120 cams. Tom made the oil tank from an old fire extinguisher he got 'from the dump'. He also fabbed the hardtail, battery case, removable nacelle – and found the headlight at a swap-meet.
"I wanted to build something that looked like a 1950s bike. I was inspired by an article in Classic Bike," he says pulling the mag out of a toolbox top drawer to prove his point.
The Triumph has been displayed at shows alongside Tom's truck – a 1939 Plymouth PT81 that he got from a scrappy in California that took four years to complete.
"Only 8000 of them were ever built and I think this is the only one over here. It's still a flat six flathead with original four-speed transmission. I love it. It's part of the family."
The Triumph isn't though. Not family. It's not even a shop bike. "It just lives here," laughs Tom. "It's a typical Triumph so it undresses itself on a regular basis and needs
attention which is why it's here. We rode the other day and it sprung a leak. I was riding my Enfield."
Ah, Tom's Enfield – a 1998 Bullet, see p136 – with just 62 miles on it when it came into his possession following the unfortunate death of a previous owner. "The guy who owned it crashed it first time on it and it sat in his garage for 17 years. He died three years ago and a customer of mine put me onto it. I ride it every day – it's got 650 miles on it now. I
raced it at the Malle Mile recently (see page 42)."
Tom's changed the bars, fitted a real Smiths speedo, shortened the rear fender and re-wired it. He's also fitted an Amal concentric carb, plus a new seat and pad. The silencer
internals fell apart but the rest of the system was in good fettle.
"I fitted the knobbly tyres too," he says. I wouldn't have them on a big bike but they are great on this lightweight. The traffic can get heavy on the back roads and you can't
overtake on the outside with the oncoming traffic. So with this I can ride up the grass verges, overtaking on the inside!"
The Enfield is a daily workhorse, a very different proposition to the bikes Tom normally builds – bikes that are a tribute to his outstanding fabrication talents and reveal his wideranging ability to develop different styles and ideas. One bike that really captured the attention was the Pipeline Guzzi, with everything hung off a box-section spine frame. Tom describes the bike's style as 'mega industrial' with its gas tank, massive inlet ducting, two-inch exhaust and boom box end can – all in
stainless steel.
But in one quick mood change Tom went from creating a Mad Max urban racer to hippy-style old-skool bobber based on a classic Matchless G9. The super-clean 650cc twin
features one of Tom's own hardtails and a host of handmade one-off parts to create an outstanding customised classic that even Matchless purists could not fail to appreciate.
"The Matchless was a commission build. The customer, who also owns a Buell, wanted a 1950s style bike after seeing the 1955 T110 I'd built," says Tom.
But not every potential customer understands the amount of work that goes into creating a custom. "So many people ask for customised classics but they don't realise the time it takes to find the basic motorcycle – or the prices they fetch. Then it's ten grand on top for the parts to take it back to basics. You can buy a hardtail of course but they don't flow how I like them to. If you know what you are doing you can shave the time off builds but, as I say, I don't like to build the same bike twice."
The Bike Shed showed Tom that going to shows with a commissioned bike wasn't a great business idea. "If you go to a show with a bike that's not already sold, people will buy it – but
the minute you say it's sold they disappear. They don't want to discuss you building an alternative. If it's for sale, they'll buy it."
This was the case with the trick BMW he took the Tobacco Dock this year. The R80, with the engine refurbed by Motorworks, was as mad as the Guzzi, but somehow a little more refined. Highlights include a stainless steel tank, triangulated subframe, YSS shocks, stainless exhausts terminating in an underseat collector, twin-choke Weber carb feeding the inlet tracts through sinuous inlet manifolds.
"People on social media have a pop that my bikes can't be ridden and are only for show. I had some guy saying the BMW I did couldn't possibly run with the long intake manifolds I'd made. I don't bother to respond – you can't afford to get into the discussion. But I've bought a GoPro to use for road testing – that should set everything straight.
"And I've decided I want to do another BM. The plan with the bike I took to Tobacco Dock was to build something for me but I got carried away and it came out super shiny, super sleek. So I'm building
another similar cafe racer – an R80/7 with a Weber carb again. We finished that build – well, it still needed some finishing touches – on the Thursday of the show but we took it to Tobacco Dock and by Sunday night I'd sold it. I'll sell the new one too because I've got another idea for a bike I want to build for myself – a round barrel Guzzi."
Tom says he's had enquiries for yet another new BMW build from as far as the States – and already has another five bikes in his workshop to do for customers. But he calls them 'longer term projects' that customers aren't in any immediate hurry for. That's just as well since there's a Hinckley T100 on the bench. "It's a brand new bike, never been on the road. The guy, Chris, wants a full-on flat tracker. He had been coming here for a year and we'd chat over coffee about bike builds. Then, first day in January, he called to place the order. I bought the bike from Destination Triumph and set about stripping it down."
The Triumph will get 19in wheels (3in-wide front, 3.5in rear) with Morad rims from Hagon allowing the fitment of Maxxis DTR1 flat track tyres. It's also getting new shocks, new sub-frame hoop, alloy tank and a seat made by Tom. There will also be flattrack bars with Motogadget switchgear, parabolic lights on a flat number board, rear sets, and a 10in slash cut can with Tom's header pipes.
"I did a similar system on a white T100 I built for another guy. I like to run the header pipe parallel with the downtube. Taking the balance pipe off the
Hinckley twins makes them sounds just like an original Triumph."
Tom also has a contemporary Triton to build. "I need to find an original and make it look good. I appreciate the nostalgia of the old Tritons but I want
to sleek it up while keeping the essence. It's got to be a unit motor in a Wideline frame with modern disc brakes, Motogadget clocks. I want it to
look less 'shed assembled'. It's a nice project but I've umpteen others to do."
It's hard to imagine a broader range of machines passing though Foundry Motorcycle, yet Tom argues that he has a definitive style. "Thing is, all my bikes are totally different to start with but I bet if you lined them all up you'd see they all fall into my own specific style," he insists. "Customers like my work and order something from other bikes they've seen of mine."
But how does Tom define his style? "I think my smithy background comes through. It's more organic rather than bolt-on. Most of the stuff on my bikes I make right here. I always make the exhausts flow in a particular way. I make all my own subframes. If I keep building the same over and over I could make more money but each time I try to do something, it's different."