When a street Artist turns custom bike builder there's only one possible outcome: seriously cool and engaging motorcycles...
"I'm an artist first and foremost. I travel the world painting murals on walls."
D*Face (AKA Dean)
Rebels Alliance
Motorcycles
Various
Location
Hackney, London/UK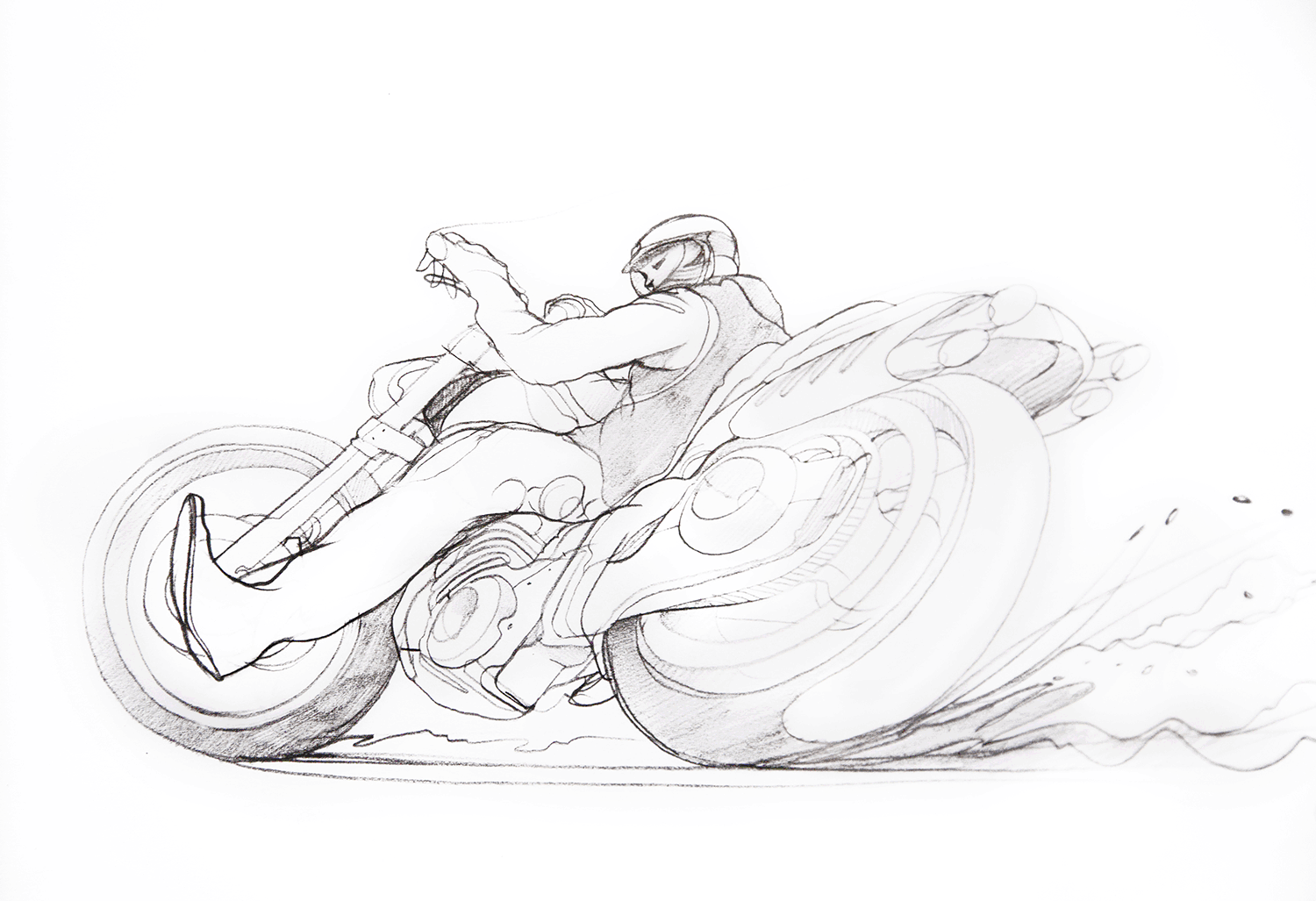 D*Face is one of the most prolific street artists of his generation. His work comes from childhood inspirations; skate graphics, album art, bubble gum cards, Hanna Barbera cartoons and the graffiti he saw in London and New York. But D*Face, otherwise known as Dean, also developed a love for motorcycles thanks to his father taking him to school every day on a CG125 Honda. Now both interests have converged and Dean runs Rebels Alliance – as much a welcoming destination as it is a custom bike shop. We met up with Dean to discuss how art blends with bikes...
Are you an artist or a motorcycle builder?
I'm an artist first and foremost. I've been a motorcycle rider since the age of seven – if you count the times when I used to go on the back of my dad's CG125. I used to go to school on the back of it every day, in all weathers and I'd get to school with blue legs in my short trousers during winter. I own the CG now – it's my pride and joy. When I tried to buy it off my dad he said he wanted £1500 – way too much for what it was – but I said 'I'll pay now!'
£1500 for a CG125?!
(Laughs) He agreed to sell it to me for less than that as long as I agreed not to do anything to it. He said: 'I've seen what you do to those little Hondas!' I agreed to that, apart from the top box.
What was your first bike?
I wanted an RD50 and on my 16th birthday my dad came home and said, 'let's go and find a bike for you.' We went to Roy Smith's in Malden. He had a second-hand RD50 and I said 'that's the one for me,' but Dad said I'd kill myself on it yet thought a DT50 would be okay! I got that, derestricted it and polished the ports.
Rebels Alliance founder Dean (right) acquired the Cream Sickle in exchange for one of his paintings. His builds tend to be based around much smaller engines.
Have you always owned a motorcycle since?
I sold the bike when I went to uni. There was no need for any transport as I spent every day either drinking or studying. My first job was working in design as an illustrator but I quickly realised I was more into graffiti and skateboarding so I decided I had to either stick to a full time job and quit my art, or focus on my art. It was much more exciting being out on the streets, painting. I think there's a link connecting street art and bikes in spirit at least – the fact that both are slightly illegal.
How did you become a street artist?
I've learned everything by trying and failing. The weird thing in art is that you have to learn by yourself. I now have galleries in New York, LA, Melbourne, Paris and London.
But your reputation comes from street art?
I travel the world painting murals on walls. I get emails from people who have seen my art and want me to do something for them. You'll get people buying up big areas in a city, wanting to turn the area into an 'art district,' and having one of my murals there helps attract people. Ninety percent of what I paint is what I want – which is another connection with (the freedom) of building custom bikes. Sometimes I'm asked for a sketch up front and if that happens I'm immediately aware that the person commissioning the art wants some kind of control over the finished piece.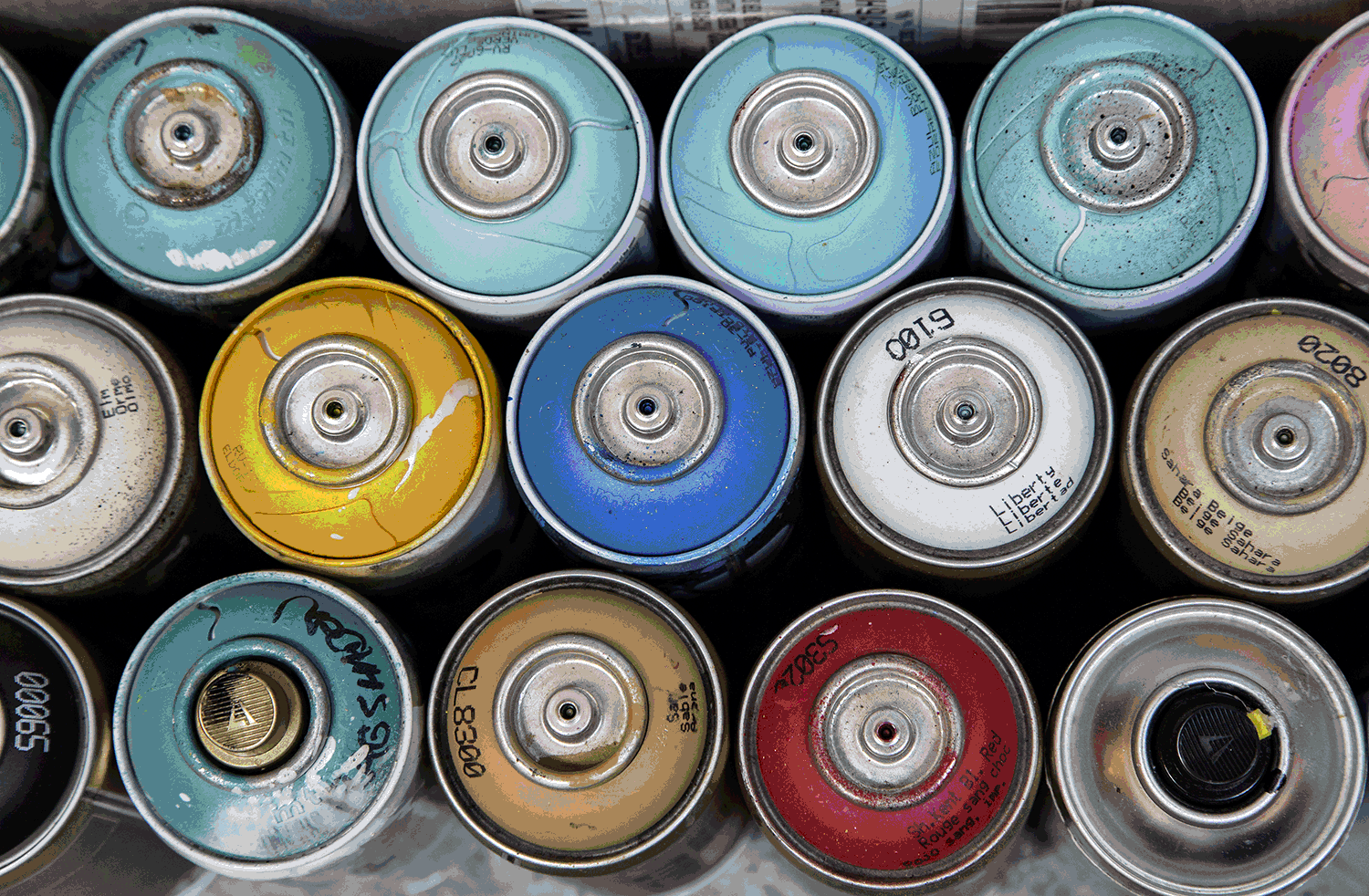 When you got back into bikes, what were you riding?
Sportsbikes. I was living in Kingston and had a workshop in the East End. You get into the rhythm of riding fast in the city. It doesn't feel unusual after a while – until you get caught doing 80mph in a 30. My initial thought was 'I can outrun these guys (the cops),' but then I thought 'best pull over and take what's coming'. I was lucky. The bad cop must have stayed in the car because the cop who dealt with me let me off with three points. I was lucky not to lose my licence. I knew something had to give and I'd either end up with no licence or I'd die so I said to my wife, we have to move closer to my work. So then the bike – a KTM Super Duke 990 – got sold and I started cycling to work!
But you're still into bikes. What changed?
I missed the bike. I read in an American classic bike mag about racing CB160s and thought one of those would make a neat cafe racer for the road. But CB160s are like gold dust. I got a CB550 instead – cheaper bike, bigger engine. I found a 1978 one-owner, 14,000 miler, and turned it into a cafe racer. I discovered a creative release.
But you had your art. Wasn't that creative?
My life was always about creating new art but this was creativity without the pressure of work. I finished the Honda and ran it in primer green for a while. I enjoyed the whole build process and wanted to do another. So I bought an SR500. People told me how bad they were to start but I found one for £600 and built a Brat bobber. True to form, it was a pig to start. At that time I met a guy called Japper. He was a trained bike technician working for a Honda dealer, though he'd also worked for Yamaha and Suzuki.
And he sorted the SR?
He took one look and said the carb was knackered and the stator looked like it had been sat in a puddle. Japper and I hit it off. In a strange turn of events I lost my studio to developers and went to see Japper about getting an MoT. He was working for a dealer at the time but also had a place in some railways arches and I ended up moving my studio in next door. I was there three years and after work hours we'd spend evenings tinkering on bike projects. He realised how much fun it was working on old bikes and we agreed it would be fun to have a bike shop. Roll on a couple of years and my temporary studio was bought from under me [developers again].
How did you end up here?
I heard about the place from the bloke I was renting my new art studio off. We did a trade: my art for the rent price. I asked Japper if he wanted to work with me and he said, 'yeah, 100%' and we started Rebels Alliance. I'd shown bikes at The Bike Shed and went to Dutch (the founder) for advice about setting up the business. He said, 'come and have a look at what we are doing.' I thought, 'if he can go that far down the line and give that much commitment then maybe we should go for it with our shop?'
You're not far from The Bike Shed. Does that work okay?
It's good having The Bike Shed around the corner. They are very supportive of us and they have my art on their walls. It works well and we send them customers who are looking for stuff we don't stock.
What bikes do you like to focus on?
We build bikes in an ad-hoc manner. CBs, SRs and Puchs. I love Puchs. I always like the idea of small things going fast. I see the cloud of blue smoke from a Puch ridden by a tearaway kid and it makes me smile. Then we got into CB125s – same scale as the small bikes but with a four- stroke engine. They cause a stir because they are silly little bikes and we build them quite cheap as entry-level machines. Thing is, to build an SR now you need £1500 to buy a donor bike if you are lucky. So to turn any kind of profit after you've done the custom work you need to sell it for what, ten grand? The little bikes have done us a big favour and the plus for the buyer is that they invariably carry a little bit of my art.
Who do you sell to?
We sold two bikes to a pair of girls. We sold the red CB to a BMXer. It's a real mix. We've got commissions for a CB500 and a CB550. We're also having a discussion with a customer about a CB350 twin bobber in a kind of Brat style. With Japper we can tackle any of that – stuff other builders can't. We do performance engines and can build bikes with the vintage look but with modern brakes etc. We bore out the little CBs to 190cc – you can really embarrass the bigger bikes with it.
Is it just you and Jappers?
No, my art assistant Boots is the third spoke in the wheel of Rebels Alliance. He helps me with painting and plans exhibitions. He's the third part of the bike business – he has a view on the aesthetics. Most graffiti artists have staff – some have big teams. I've had up to five working on my art with me.
That orange Triumph kinda looks out of place. What's the story?
It's from Bones Legacy in Vegas. Bones was a legendary builder who passed away in 2005. A friend of mine called Richie Seen, the 'Godfather of Graffiti', is a legend in the art world. He painted the New York streetcars – he's in his 50s now and is such a cool guy. Anyway, I hooked up with him as a kid. Richie and a guy called Paul Ponkow set about preserving Bones' bikes and other 1960s and '70s choppers. Paul had worked with Bones from 1990 and, following Bones' death established Bones Legacy and ran it until 2008. This Triumph, known as the Cream Sickle, was one of the Bones Legacy bikes.
How did it come to end up here?
I brought Richie to the UK in 2005 to exhibit his work. I'd been going to the States for four years and he had this wonderful collection of old choppers and was buying up any famous bikes he could find. They were often neglected and left in sheds. He (and Ponkow) restored them in keeping with the era – often with long forks, no front brake, big sissy bars. First time I met Richie he had maybe ten bikes and now he has around 50, but he's decided to sell everything off apart from some key bikes he'll keep. Cream Sickle was one of the first I saw and said I thought it was beautiful. Last year I got an email from Richie saying if there was anything I liked to let him know. I said I loved the '59 Cream Sickle and if he was going to get rid of it to let me know.
Such a shame to break up a collection like that...
He said he was only keeping those that stirred it for him and Cream Sickle wasn't one of them – and he'd swap it for a painting. He said: 'I know you love this bike. I want you to have it.' And sure enough it turned up here this year. All I had to pay was the shipping. It's not really assembled for riding in the UK though. There's no front brake, no switch controls. We'll get a new front wheel, fit brakes and ride it to bike shows so people can see it. It's such a great bike.
What's the future for Rebels Alliance?
I'd like more space. Having my art studio and workshop in two places is draining a lot of time. I'd like to have a combined shop/studio. There's talk of that in California. There's talk of it here. The good thing about this scene is that you can make it (the shop) destinational. So if you do have more space you can make something of it. I'd like it to be more of a workshop and cafe.
California?
I have a visa and think a business like this could do well out there. Deus (p100) is a good example of a business making bikes that taps into the culture as well. I love California. My work is well received out there and I'm inspired by Californian culture. I'm steeped in USA's ethos of bigger and better, and I'm steeped in sunshine.
The world according to Jappers
"I worked on performance machines before – supersport bikes. But I was always interested in the history of motorcycles and this is a vintage bike shop. A mix of old and new is what I like. I'm currently working on a CB500 Four with performance parts – forged, high compression pistons, different cams, valves etc, electronic ignition, new carbs. Last time we built a 500-4 we brought in a special bespoke exhaust from Japan. I think this engine will be better than 1972 when we've finished it. Compared to when the engine was built in the 1970s we've taken a lot more care in the assembly and used improved parts."