A lightweight street-racing hero from XTR Pepo
Café Noir is one of XTR Pepo's typically beautiful street racers, built in homage to the classic-style 250cc road racers that used to play a big role in the Continential Circus GP series, and smaller road races all over Spain. Pepo Rosell, the creator and engineer of XTR, has always built bikes to be ridden fast. Pre-XTR he ran Radical Ducati, building some of the fastest, lightest Italian street bikes in the world. Since re-inventing himself as XTR Pepo, he's maintaining that emphasis on road racing style and performance but has turned his attentions to other manufacturer's machines.
This bike graces Heros 66 in Madrid which is the flagship store of Mash – the new Chinese-made brand. Pepo's bike is based on Mash's 250cc single. Heros 66 became the first 100 percent Mash outlet in Europe and the range of retro-style singlecylinder bikes fits perfectly in the charming vintage back drop of the suburb. It has become a cool place to hang out and hosts exhibitions and cultural events. But many visitors are still drawn in by the Café Noir and we're not surprised – while this isn't the first Mash Pepo has customised, we think Café Noir is by far the sweetest.
'It's one of XTR Pepo's typically beautiful street bikes, built in homage to classic 250c road racers'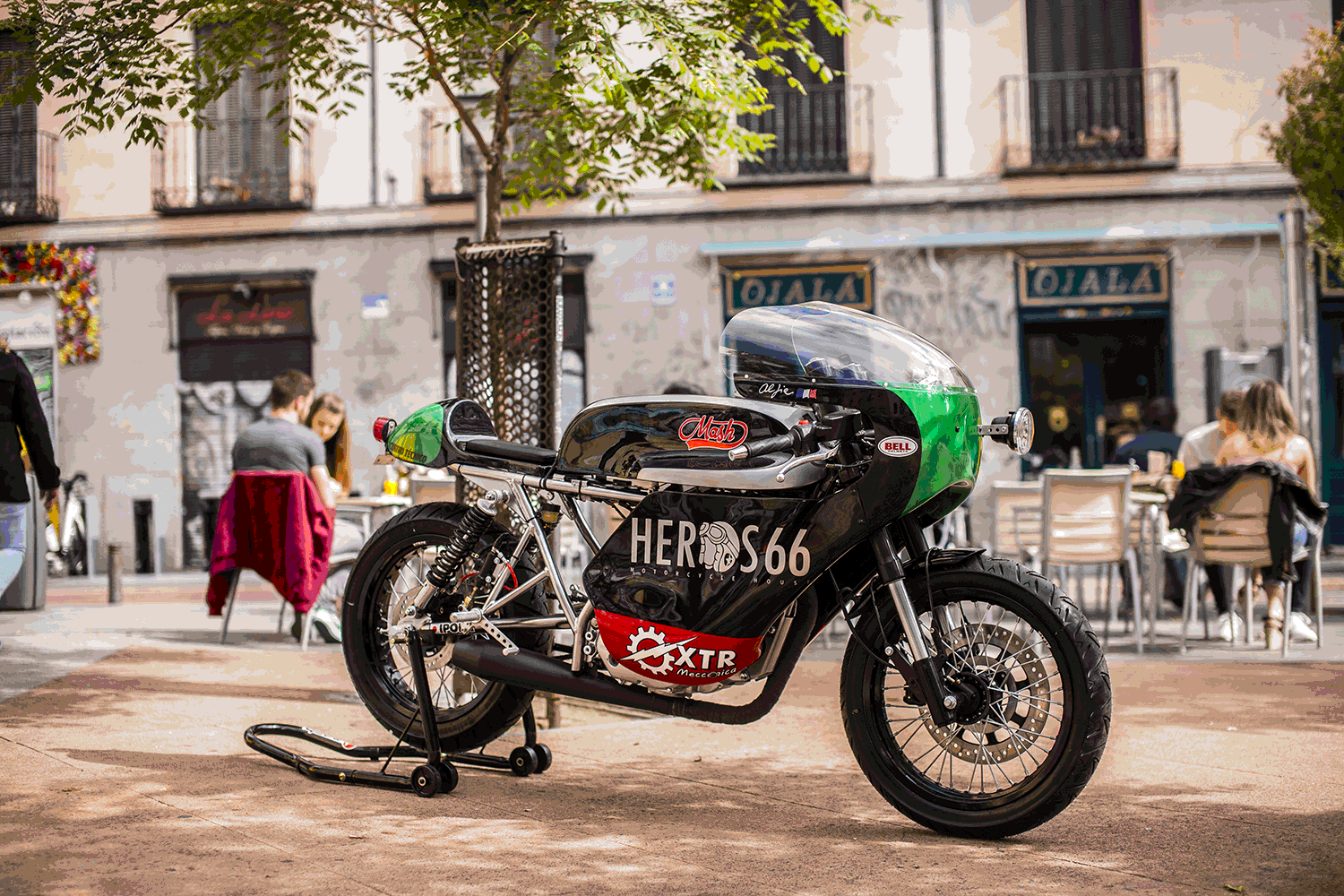 Specifications:
XTR modified: frame, front mudguard.
XTR handmade
components: front fairing bracket, aluminium race footrests, air filter, exhaust system and megaphone, fibreglass fuel tank (Honda 500 GP type), fibreglass fairing (Ossa GP type), screen, fibreglass solo seat (Aermacchi Ala d'Oro type), upholstery, licence plate and rear light bracket.
Other components:
Frentubo rear brake line, Continental Supermotard tyres, Montesa rear light, lithium battery, paint by Pintumoto XTR Pepo Ø madrid / spain